North Conway and the Mount Washington Valley have many beautiful sights to see. The mountains and rivers are exhilarating. The area – throughout the year – is a wonderful place to be.
There's something for everyone in North Conway, New Hampshire. This is a town that has broad appeal. It is a clear destination town of the White Mountains. From antiques hunting to outlet browsing, it's a shopper's haven with a great mountain view. It's also a magnet for outdoors enthusiasts, who can enjoy some White Mountains skiing at nearby Cranmore Mountain Resort or hike up to Cathedral Ledge for its sweeping views of Echo Lake State Park. There's plenty of fine dining and pub hangouts to choose from. Foodies have ample reason to pay a visit here too.
Here are five ideas for things to do or see in the immediate area of North Conway.
Five Places to Eat
The Notch Grille
The Glen House at Mt Washington
The Notch Grille, a full-service and family-centric restaurant that features wonderful north country comfort foods but with a twist. The restaurant has spectacular views of Mount Washington. The Notch Grille is proud to support our local farms, breweries, and distilleries — including their own private label vodka made at Tamworth Distilling.
The Glen House is approximately 2 miles north of Wildcat Ski Area.
Location: 979 NH Rt 16
Phone: 603-466-3420
——————————————
Mountainside Restaurant
With views of the White Mountains and our scenic pond, the Mountainside Restaurant serves American cuisine in a charming lodge-style ambiance. Start your morning with a delicious breakfast buffet, served daily from 7 am – 10 am, Monday through Friday and 7 am – 11 am on Saturday and Sunday, with scrambled eggs, Eggs Benedict, bacon, sausage, make-your-own waffles, cereals, and fresh fruit and juices. Grab a table with the family for dinner and enjoy fresh seafood, steaks, chicken, freshly-made soups and salads, and decadent desserts.
Located near the intersection of HWY 16 and Route 302. Parking is free.
800-655-1452
——————————————
The Valley Gourmet
The Valley Gourmet is a personal chef service offering personalized cooking in the comfort of your home. Culinary trained and former full-time yacht chef, Chef Sue Ficken, utilizes local and sustainable ingredients as often as available, creating flavorful dishes suited to your preferences and budget.
With 12 years of personalized cooking for guests on yachts, Chef Sue's style transitions seamlessly into the home kitchen, offering delicious and creative dishes with a gourmet twist.
Mount Washington Valley, New Hampshire
603-986-9411
——————————————
Fiesta Jalisco
Fiesta Jalisco is a Mexican restaurant. Stop in and discover their delicious and authentic Mexican dishes> They also have a large selection of Premium Mexican beers and make superb Margaritas. All our food is prepared fresh daily.
6 Mountain Valley Blvd.
North Conway, New Hampshire 03860
Open Daily at 11:00 am
Phone: 603-733-5550
——————————————
Shalimar of India
Shalimar Gourmet Indian Restaurant in beautiful North Conway, New Hampshire. An interesting little jewel in a town where adventurous ethnic cuisine once meant "nachos fully loaded", Shalimar features an array of tasty traditional favorites and mouth-watering contemporary dishes from northern India served in our spacious dining room, or on our deck overlooking the spectacular Mount Washington Valley.
The menu boasts several Tandoori dishes, biryanis, our signature Lamb Vindaloo, fresh seafood from the coast of Maine, dahl soups, fifteen individual vegetarian specialties, Chicken Tikka Marsala, mild to flaming curry dishes, traditional Indian desserts, mango lassi smoothies, plenty of additional Indian offerings to satisfy everyone's palate.
2197 White Mountain Highway
North Conway, New Hampshire
603-356-0123
——————————————
Boston Brothers Pizzeria
There's no need to go to the North End! Boston Brothers Pizzeria serves "Wicked Good Pizza" right here in North Conway! All our pizza is Hand Tossed to develop the perfect crust and our sauce is homemade in house. We also serve delicious calzones, subs, fresh salads and more.
2718 White Mountain Hwy
North Conway, New Hampshire 03860
603-733-5920
——————————————
For more ideas on places to eat visit the Mt Washington Valley Chamber of Commerce.
Five Cool Places to Shop in North Conway
Settlers Green
A collection of 70+ tax-free shopping outlets. People flock here from all over the world to take part in some of the most affordable prices for brand names that you really won't find anywhere else. Settlers Green is home to the Nike Store, Addidas, Banana Republic, Justice, Old Navy and way too many others for me to get into here.
There are also many discounts such as discounts for the military, teachers, 55+, and students.
Here is a link to the directory of stores at Settlers Green.
——————————————
Zeb's General Store
Ask anyone in Mt Washington Valley of New Hampshire where to find the best shopping experience and they'll point you to Zeb's General Store in the heart of North Conway Village. The store is named after Zebulon Northrop Tilton. He was a colorful schooner captain and was husband to three wives. He is a New England folk hero.
Zeb's General Store embodies the nostalgia and quality offered by the general stores of yesteryear with a decidedly whimsical flair. It has an old-fashioned candy counter that lures children and keeps them very (very) occupied. There is also a grand collection of New England made specialty foods. Moreover, anyone in search of a hard-to-find or nostalgic item may relive a childhood memory while browsing the store which has over 5,000 unique products.
——————————————
Bavarian Chocolate Haus
An "Old Fashioned" Chocolate Shop where they make all their chocolate confections by hand. Yummy!
2483 White Mountain HighwayNorth Conway, NH 03860
Monday – Saturday 10:00 AM to 5:30 PM
Sunday 9:30 AM to 5:30 PM
603-356-2663
——————————————
Handcrafter's Barn
A special shopping experience . . . The HandCrafter's Barn is a year-round gift shop, with over 150 Artisans and Crafters displaying their wares in a converted eighteenth-century colonial barn.
The three-floor barn is are filled with photography, jewelry, pottery, crafts, Framed Art form New England. You'll also find home decor, furniture, tole painting, fiber art, and miniatures. Their stock is ever-changing, and they are always on the lookout for talented artisans to display their craft in the Handcrafter's Barn.
The HandCrafter's Barn is a must place to visit when looking for something special.
603-356-8996
Visit the Handcrafter's Barn online.
—————————————–
White Birch Books
Laura Cummings, a long-time employee, purchased the White Birch Bookshop in 2005. She currently runs it with the help of a small but dedicated staff. The goal of this fine North Conway book store is to promote and support the North Conway community of readers which includes both locals and visitors.
They are open year-round, 7 days a week, Monday – Saturday 9:30 am-6:00 pm and Sunday 10:00 am-5:00 pm.
The bookshop also has frequent author events.
White Birch Books is located on Main Street in North Conway Village right across from TD Bank North.
603-356-3200
Visit White Birch Books online.
——————————————
For more ideas on shopping visit the Mt Washington Valley Chamber of Commerce website.
Five North Conway Attractions
Echo Lake State Park
Located just a few miles from all the great tax-free shopping in North Conway you'll find Echo Lake State Park. It's a great place to take the kids for a swim or a picnic. There is a beautiful trail around the lake there that provides a great place for mountain biking, running or just a scenic stroll. You can easily see Cathedral Ledge which towers over the lake (kinda hard to miss). If you'd like more information, you can check out the New Hampshire State Parks Website.
——————————————
Conway Scenic Railway
It's been a staple here in the Mount Washington Valley since 1874 and is primarily the reason that North Conway became the tourist destination that it is in the first place.
They offer several scenic train rides per day and allows you to go deeper into the heart of the White Mountains to really explore areas that you wouldn't otherwise see. They do offer several shorter train rides per day as well for people with little kids who would like to have the experience of being on a steam locomotive.
——————————————
Cranmore Mountain Resort
This year-round Mountain Adventure Park offers all kinds of fun for the whole family. Whether you are a skier or not.
While they do offer over 170 acres of skiing, tubing, and riding, not all of that is in the winter time. During the summer months, you can zoom down the Mountain Coaster or zip on the Soaring Eagle Zip Line.
——————————————
Story Land
The closest thing to Disneyland in New England. Here again Story Land is another staple to the Mount Washington Valley area. While it's not directly in North Conway and is only a few miles up the road in Glen, NH, it is a must to visit here if you have smaller children. They are closed in the winter, but if you are coming here to visit in the summertime it is definitely worth a visit.
——————————————
Mount Washington Valley Children's Museum
2936 White Mountain Highway
North Conway, NH 03860
(Next to Stan & Dans Sports)
603-356-2992
The MWV Children's Museum is a great place to bring kids ages 0-9. There is an abundance of educational, interactive, hands-on exhibits where kids can learn thru PLAY!!
This is a place with hours of value and not just for the little humans.
Kids won't want to leave!! Check out the Mount Washington Valley Children's Museum.
——————————————
For more attractions in North Conway and the Mt Washington Valley area visit the Mt Washington Valley Chamber of Commerce.
Five Hikes In or Around North Conway
ESI River Walk Trail
This trail is in downtown North Conway and may be considered a short fitness trail. It starts just behind the Eastern Slope Inn Resort and runs between the beautiful North Conway Country Club and River Road ending at the Saco River.
Being surrounded by hundreds of miles of White Mountain National Forest trails can make one overlook these small nature walk adventures that are so simple and quick to pull off! Not every hike has to be a 4000 footer adventure. This trail is also very pleasant if you have small children.
——————————————
Echo Lake State Park
This wonderful state park is adjacent to the village of North Conway and there are multiple trails for some excellent trial variety. In total there are 5 great hiking trails and super scenery. The trail length range from 1.9 to 3.9 miles and from 485 to 1,443 feet above sea level.
A nice hike is the hike to Cathedral Ledge from Echo Lake which is covered separately below.
——————————————
Dahl Wildlife Sanctuary
The Dahl Sanctuary is an excellent place to observe wildlife like birds, amphibians, and mammals, and it is open for public exploration on a year-round basis. It is nestled next to the Saco River. The 60-acre property provides a network of trails that explore a variety of habitats and is good for wildlife observation. The Silver Maple Trail winds along the edge of a field in which there are many nest boxes for birds. At the end of the Beach Trail, there is a cobble barren along the river that provides good views outward.
The property was donated to NH Audubon by Helen and Ruth Dahl in 1988. Used as farmland throughout the 1800s and early 1900s, the Dahl Sanctuary is now used primarily for open space and wildlife habitat. It is owned and managed as a wildlife sanctuary by New Hampshire Audubon.
——————————————
Black Cap Trail Head
Black Cap Trail is a 2.3 mile moderately trafficked loop trail located near North Conway, New Hampshire that features beautiful wildflowers and is rated as moderate. The trail offers a number of activity options and is best used from May until October. Dogs are also able to use this trail but must be kept on leash.
Amazing views of the Mt Washington Valley. This is a family-friendly hike. Wear proper footwear. Be careful if the rocks are wet.
——————————————
Cathedral Ledge from Echo Lake
This is a 2.8 mile heavily trafficked out and back trail located near Bartlett, New Hampshire that offers the chance to see wildlife and is rated as moderate. The trail offers a number of activity options and is best used from April until November.
While a short hike it is relatively steep and there are places where you will need to climb or scramble over rocks. There are wonderful mountain views and also of Echo Lake from the top. Midweek is a nice time to go as there will not be many people on the trail.
——————————————
For more activities and hiking ideas in and around North Conway New Hampshire visit the Mt Washington Valley Chamber of Commerce.
Five Rainy Day Activities
M&D Productions
1857 White Mtn Hwy., North Conway, NH 03860
(In plaza next to D'angelo's)
Box office 603-733-5275
An award-winning community-based theatre that provides year-round professional quality cutting edge dramas, comedies, and musicals while collaborating with the community to make a difference.
——————————————
Conway Historical Society
Eastman Lord Museum
100 Main St. Conway, NH 03818
Tel 603-447-5551
The museum is headquartered in the Eastman Lord House, circa 1818 residence of Conway mill owner, William Kimball Eastman.
Seventeen rooms are open to the public.
——————————————
Conway Scenic Railroad
38 Norcross Circle North Conway, NH 03860
Tel 603-356-5251Old-fashioned train rides, from 1 to 5½ hours, all departing from our 1874 Victorian station in North Conway Village. Excursions offered mid-April through December.
Dining car service available June through October.
——————————————
MWV Children's Museum
2936 White Mtn Hwy North Conway, NH 03860
(Next to Stan & Dans Sports)
Tel 603-356-2992
The MWV Children's Museum is a great place to bring kids ages 0-9. Lots of educational, interactive, hands-on exhibits where kids can learn thru PLAY!! Hours of entertainment.
Kids won't want to leave!! Check them out!
——————————————
Mountain Valley Mall Cinema
North Conway, NH 03860
Tel 603-356-6410
——————————————
Settlers Green Outlet Village
Route 16 North Conway, NH 03860
Tel 1-888-667-9636
——————————————
For more ideas on things to do when the weather may not be the best for being outdoors visit the Mt Washington Valley Chamber of Commerce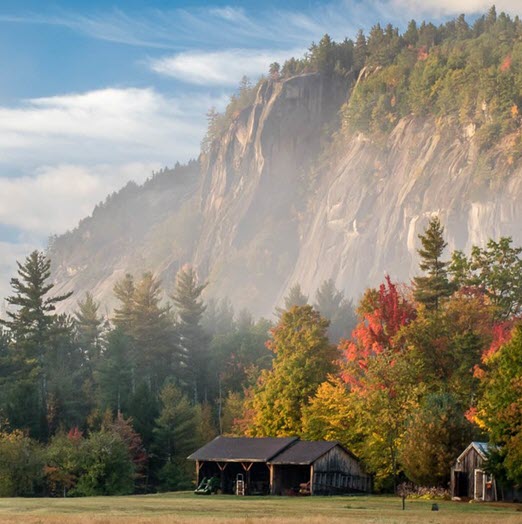 North Conway is the four-season resort center. It is a community Well known for its outlet and local boutique shopping, a variety of dining favorites, and of course our White Mountain National Forest playground which has over 700,000 protected acres. It is in the heart of the White Mountains.
Aerial Views of Cathedral Ledge in North Conway, New Hampshire